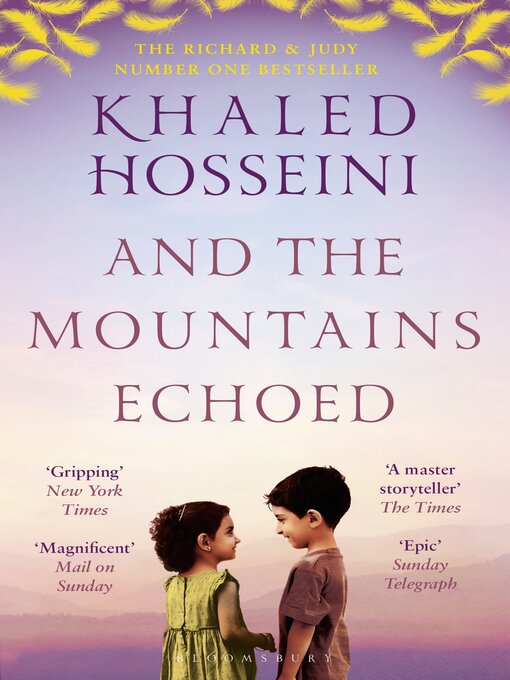 Book Name
: And The Mountains Echoed
Writer: Khaled Hosseini
Source: Purchased on Amazon Kindle
Total Pages: 448
Language: English
Genre: Fiction/Drama
Introduction:


After having done portraying the love and unbreakable bond between two brothers and a mother and daughter in his previous books, Khaled Hosseini turns to portraying the undying affection between a brother and sister in 'And The Mountains Echoed'. This is a book that will make every sister call her brother and vice versa no matter how much you fight with each other every day. Drowning its readers in emotions, this is a journey of a brother and sister who are departed by fortune at a very tender age.
Plot Summary:


The story begins with Abdullah and his baby sister Pari staying in a rural village named Shadbagh in Afghanistan. Abdullah and Pari have lost their mother to fate and now stay with their father, step-mother and her kids. For Abdullah, Pari is like his own daughter for he has done everything for her right from changing her nappies to drifting her off to sleep and collecting unique bird feathers for her that she loves.
However, fate has some other plans for the two. Pari, at a very tender age, is sold off to a wealthy family by her father owing to circumstances. Abdullah, thereafter, is left only with her memories that remain with him forever. Years pass and both of them lead their own lives in different countries.
Pari does not remember anything about her childhood or Abdullah unless she finds a letter that reveals her the truth. What follows for Pari is the journey to find her brother in some corner of the world and meet him once again. You have to read the book to experience Pari's wonderful journey towards discovering her own childhood!
Writing style:


Khaled Hosseini's writing style may not be as easy as those of some local Indian writers. So, there are jargons used at some places in the book that one may find difficult to understand. Also, the author has used Farsi and French language at some places although he translates it for the readers instantly in the next line. The writing style is also very deep and the writer describes each and every person with the minutest detail possible.
My Perception:


It is a Khaled Hosseini book, so it has to be wonderful! But, unlike his previous two books, I found this book detailing unimportant things quite deeply. The author has also shifted from one person to another and written the story from the point of view of the character which can confuse the reader a lot. Like, at the start of every chapter, one wonders who the writer is talking about only to find it out in the later pages.
Also, some characters and places are described unnecessarily and way too much in the book. They have no real connection with the story of Pari and Abdullah and simply make the book longer.
All in all, it is a beautiful story of a brother and sister, bound by love and an unbreakable bond of affection!
Halo Of Books: Excellent!

Grab a copy of this book from here
Until next time, keep reading!